After a warm start to the year, the Catskills saw a drop in temperature. With a chance of snow predicted throughout the upcoming weekend, be sure to prepare for cold winter conditions. Wear warm non-cotton layers and a waterproof shell to keep you safe and warm. Many trails, especially in the higher regions will be icy, be sure to bring microspikes or other traction aids if you plan on heading out.
This week's trail conditions are sponsored by Tender Land Home: Many of the trails are starting to see some ice build-up and could require microspikes or other traction aids. Snow is expected throughout this upcoming weekend. Be sure to keep a close watch on local weather for up-to-date information on snow accumulation and road conditions. Temperatures are likely to drop below 15 and could be even lower at higher elevations. Be sure to pack warm waterproof layers as well as hiking boots to help keep you dry and warm. Gaiters and trekking poles are a great addition to bring along with you as well. Bringing the proper gear with you will not only help keep you safe and comfortable but proper footwear will help you stay at the center of the trail rather than walking around ice or snow. This can help prevent trail widening and erosion even in these cold months. While the longest night might have come and gone on the winter equinox, it's still getting dark early, remember to bring a headlamp, or flashlight with you. Sunrise this weekend is at 7:25 am, sunset is 4:40 pm.
Weekend Weather Forecast (reporting for Mt. Tremper, NY): Thursday, Mostly sunny, with a high near 36. West Wind 6 to 8 mph. Thursday Night, Isolated snow showers before 8pm, then snow likely, mainly after 2am. Mostly cloudy, with a low around 22. Light and variable wind. Chance of precipitation is 70%. New snow accumulation of less than one inch possible. Friday, Snow likely before 2pm, then a slight chance of snow showers after 2pm. Mostly cloudy, with a high near 31. Light north wind becoming northwest 5 to 10 mph in the morning. Chance of precipitation is 70%. Friday Night, A slight chance of snow showers before 2am. Partly cloudy, with a low around 15. Chance of precipitation is 20%. Saturday, Sunny, with a high near 32. Saturday Night, A chance of snow showers after 2am. Partly cloudy, with a low around 19. Chance of precipitation is 30%. Sunday, Snow showers before 11am, then rain and snow showers between 11am and 2pm, then rain showers likely after 2pm. High near 41. Chance of precipitation is 80%. Sunday Night, Showers likely, mainly before 8pm. Mostly cloudy, with a low around 23. Chance of precipitation is 60%. (Source: National Weather Service.gov)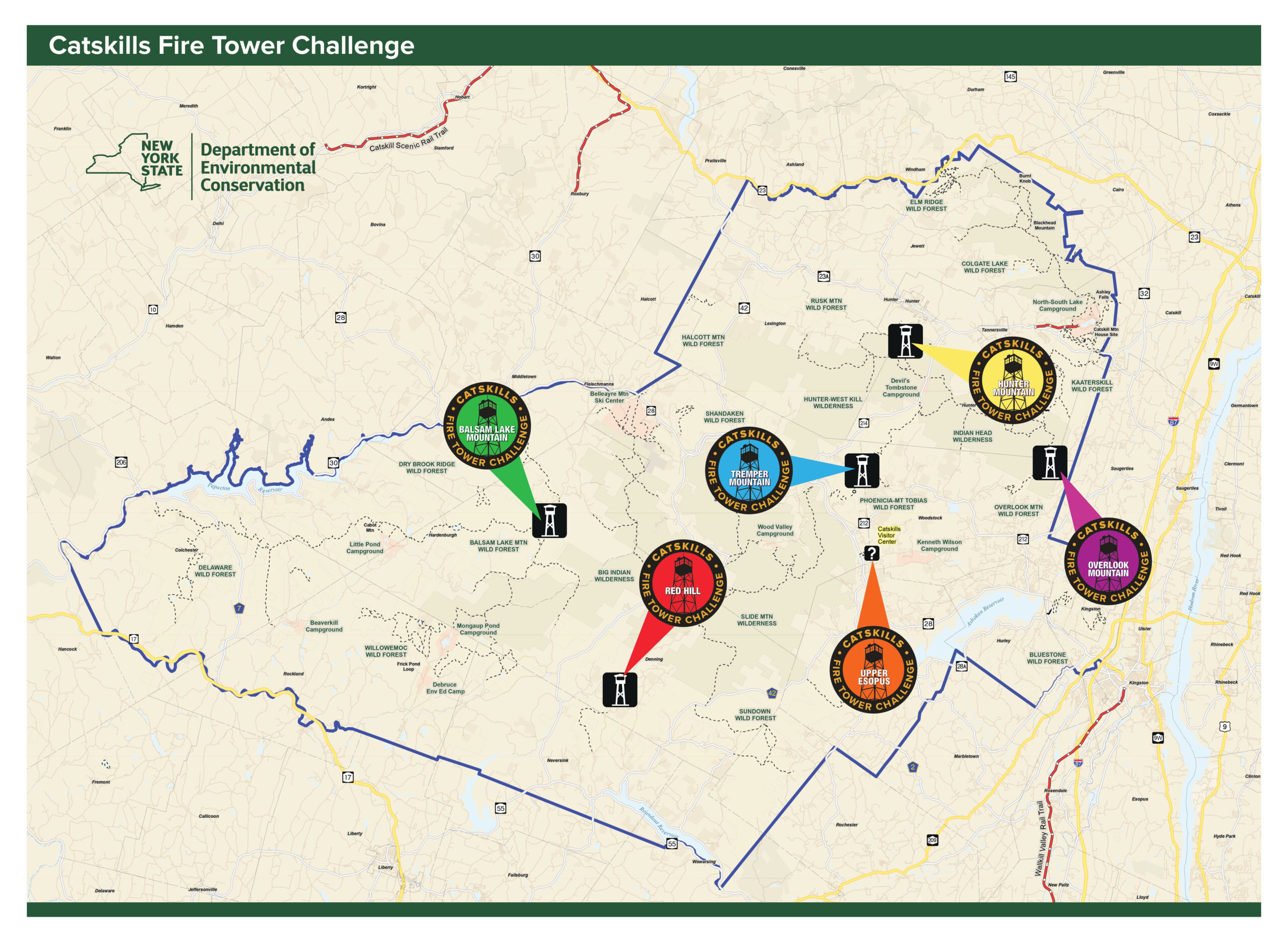 Catskills Fire Tower Challenge 2022: Just announced by the DEC, the Catskill Fire Tower Challenge will be coming back in 2022! Starting on January 1st 2022, and going through December 31st 2022, hikers can earn a prize and a certificate for completing all six of the fire towers in the Catskill Park: Overlook, Red Hill, Balsam Lake, Mount Tremper, Hunter, and the Upper Esopus. Learn more by visiting the Catskill Fire Tower Project website and the DEC's Fire Tower Challenge website.
Catskills Visitor Center (CVC): in Mt. Tremper, NY is open from 9:30-4pm every day except Tuesday including newly installed exhibits, maps, information, and a gift shop. A fire tower is located on the property as well as nature trails. Call the Visitor Center at 845-688-3369 or email info@catskillcenter.org. Visitor Center trails are open from dawn to dusk.
Hunting Season Notices:
Regular hunting season has ended, however, some small game is still in season. Please review the DEC hunting season map for specific information.
Fishing Season Notices:
From October 16th to March 31st, trout fishing is permitted for catch and release only. Valid fishing licenses and artificial lures are required.
From April 1st to October 15th, trout fishing is permitted for harvesting with a valid fishing license. Three fish are allowed per day, with one over 12″.
Trail Register Information: (the books found inside metal boxes at the start of all hiking trails): The New York State Department of Environmental Conservation encourages all visitors to continue to sign in and out at trail registers. These provide important information on trail usage and hiker safety.
Seasonal Roads and Trailhead Closures: The following are seasonal roads and are not maintained during winter months and are generally closed from November to April 15th of each year:
Temporary Closures: The following destinations are closed in the Catskills. For any information or clarification, please feel free to call (845) 688-3369 or email info@catskillcenter.org:
– DEC has temporarily stopped issuing permits for backcountry camping for groups of 10 or more (link to: the DEC's website). As of June 11, the DEC resumed issuing permits for groups of fewer than 10 people who would like to stay for more than three nights at one location on state lands. DEC is also temporarily restricting lean-to use to members of a single household at a time.
*511NY road closure map (updated daily)
*Catskills Trail Conditions Facebook Group (updated regularly by locals and visitors to the area)
*Catskills 3500′ Club Facebook homepage with updates
Doubletop and Graham Access: As of Wednesday, January 13th 2021 public access to the two peaks, Doubletop and Graham Mountain ended. We at Catskill Center are thankful to the landowners who have made their property accessible to hikers for many years and respect their decision. The Catskill 3500′ Club has decided that the remaining 33 peaks will make up the collection of Catskill mountains to be hiked for membership of the club.
Winter Hiking Tips:
– Trekking poles, boots, and traction devices are useful for traction and stability. Gaiters keep dirt, snow and ticks out of your boots. Finish each hike or excursion outdoors with a thorough tick check if the temperature is above 32 degrees F.
– Winter brings with it slick and hard to see trails. Be prepared to take your time on these trails to avoid personal injury.
– Keep a close eye and ear to encroaching weather and morning frost and prepare by bringing rain gear and warm layers on all hikes. Consider bringing a water filter on longer hikes.
– Temperatures are frequently below freezing overnight. Bringing a full clothing layering system with you in your pack is essential for day hikes and overnight hikes. This includes non-cotton layers, warm hat, gloves, and a "puffy" – an insulated jacket that's easy to take on and off throughout your hike. Try to stay dry as much as possible as layers that are wet can bring down your temperature. Changing into dry layers during your hike can help keep you warm.
– For more cold weather hiking tips as well as suggestions of places to rent or purchase foot traction devices as well as snowshoes, please visit the Catskills Visitor Center's website here.
Carry It In, Carry It Out: The Catskill Park is a carry it in, carry it out park—please be sure to hike out all of your trash and dispose of it properly!
Weather: Be aware of and prepared for changing weather conditions in the Catskills. Stay current with the National Weather Service Weather Forecast. The NY Mesonet has stations in and just outside of Catskills that provide real time weather data and forecasts. Hudson Valley Weather provides detailed forecasts for the Hudson Valley and the Catskills.
In An Emergency: Report backcountry emergencies, such as lost or injured hikers and forest fires to the DEC Forest Rangers at 518-408-5850 or call 911.
The Congressman Maurice D. Hinchey Catskills Visitor Center (CVC) hosts a weather station in the MesoWest Network. Check the current weather conditions. The Center is located at 5096 Route 28 in Mt Tremper, NY. The Visitor Center building is currently closed, however trails remain open. Please remember to socially distance when visiting the CVC's trails by giving other visitors 6 feet minimum distance and wearing a mask when you meet others.
Email us at the Catskills Visitor Center: info@catskillcenter.org, or call us at (845) 688-3369. The Center's online store carries trail maps, trail guides and more for purchase.
Most Recent Trail Update | NYSDEC Catskill Backcountry Info | CVC Online Gift Shop
#CatskillsVisitorCenter #CatskillsTrailConditions #CatskillsHiking #CatskillTrailConditions #CatskillsMountains